HEAD standard water jet cutting machine series
HEADstandard water cutting machine known as the three-axis water jet cuttingmachine, is the basic configuration of the plane cutting
HEAD standard water jet
HEAD standard water jet is the 3 axis water jet we often say, the standard water jet has the high cost and performance, and popular in our customers, the sale amount in one year can be 100 set, and the export amount is about 30% in all China. The standard water jet includes: Gantry type and Cantilever type.
HEAD standard Cantilever type
PS:The cutting table size can be customized according to customer needs
HEAD standard Gantry type
PS:The cutting table size can be customized according to customer needs
HEAD standard water jet machine model recommend
You can chose the model according to your production need, at the same time we can also customize for you, and offer you the best solution.
HEAD new generation intensifier pump
Adapt the most advanced design and structure, match with the high end import intensifier and automatic variable oil pump, strong cutting ability, and stability, can continue to work, meet with Series production.
DATA:
Max pressure:420Mpa / Continuous working pressure:370-390Mpa
Max oil pressure:21Mpa / Max water flow:3.7LPM
Power supply:380V/3P/50Hz / Power need:37KW
Max orifice diameter:0.35mm
Intensifier pump
◆equipped with the United States imported supercharger total commitment
◆equipped with Siemens (Beide) three-phase AC induction motor
◆equipped with brand automatic variable oil pump, improve energy efficiency
◆equipped with Japan Omron PLC control
◆equipped with imported valve, relief valve and hydraulic valve inserted
◆equipped with Schneider AC contactor
◆equipped with imported high-pressure pipeline
◆With cylinder piston operation overclocking protection
◆With slow start function, low voltage mode, can automatically reduce the pressure and noise at startup
◆With low pressure water shortage Automatic protection function When the water pressure is low, the high-pressure pump automatically suspended
◆using imported Italian vane pumps for low pressure, a large quantity of small water volume, pressure is stable
◆with motor overload overcurrent protection
◆With low pressure drilling, high pressure cutting function, can achieve high and low voltage automatic conversion
◆installation of visualization cover, easy to observe, beautiful and generous
USA import intensifier

Import direction valve, overflow valve

Shneider alert contactor

Romon brand PLC from Japan

Siemens(Beide) three phase a synchronous motor

Italy imported vane type low pressure water pump, small size, large water supply…

Visual cover to observe the working of intensifier
HEAD new type CNC system
1.The bottom is designed with rolling wheel, easy to move
2.The operation platform is with big size and smooth, convenient to work
3.Match with wireless remote handle, easy to do the tool setting
4.High end professional IPC
5.Electric components meet the EU industry standard
6.With the tool compensation function
7.Based on the windows8 system, "one day"can learn
8.Possible to see the simulation of cutting program, can program automatically
9.Openness compatible system, can integrate more module.
| | | |
| --- | --- | --- |
| | | |
| Shneider alert contactor | Based on the windows8 system | The operation platform is with big size and smooth, convenient to work |
| | | |
| Shneider alert contactor | WEIHONG brand IPC | Yaskwa servo motor |
HEAD standard water jet cutting table
The design of whole structure is very reliable, and assembly by module, easy to load and unload;
The water tank and machine frame are separated and can customize the water lever adjustment function;
The working area can be protected by light barrier and pneumatic splash protection screen.
Gantry type:stable structure, the most popular type worldwide.; Cantilever type: Three side open, easy to load materials
More configuration options
Option
Wireless remote control handle
WHB06 is wireless remote control handle special designed for Head Waterjet control system , it can realize wireless controlling waterjet and long-distance materials processing , improving work efficiency. With display function , can real-time display X,Y, Z axis workpiece coordinate,mechanical coordinate , speed , step value, etc . Can set workpiece zero point , back to zero point , back to mechanical zero point , feed speed adjusting ,step value ,high pressure , oil pump , water pump , abrasive controller , HP on/off valve , simulate processing , XYZ positive and negative direction moving ,etc. Adapt high performance wireless transmission technology , frequency hopping transmission , data encryption , strong anti-jamming ,stable and reliable , support 64 sets of wireless remote control using meanwhile .
Water cutters for water softener
Removes calcium, magnesium ions in thewater, prolongs the service life of high-pressure parts such as high-pressureseals and nozzles Out of water up to 2 tons / hour, which canuse for multiple devices.
Cooling tour
To protect the hydraulic system continuous working Save water resources Can guarantee the hydraulic temperature under 45 Low cost compare with oil chiller Can meet the system working requirement
Water cutting machine for oil cooler
The host uses a new imported brand-name compressor, reliable operation, high efficiency, low noise and other imported brands dedicated pump, pressure, high stability, durable and durable. The use of imported digital controller, high precision, the use of a wide range, can effectively control the oil temperature in any range of requirements. Can work at ambient temperature at 45 degrees to maintain normal work.
FastCAM
Professional optimize nesting engine, with the automatic, manual, matrix, auto keep in ,and auto manual CD-I nesting function Support multi nesting way, include DXF/DWG/CAM/NC Single or series read or input file, can nest fast Set part auto nesting Rest board editor and control, and nest to irregular board Single part and multi part auto continuous nesting Manual nesting, part can move, rotate, turn
Automatic height tracking system
The auto height tracking system which isdeveloped and researched by Shenyang HEAD water jet has the function to set thedistance between cutting nozzle and cutting part. The distance is oftenrequirement by 3-5mm. To set the distance by traditional way will causeproblems often, hard to handle, which will cause the hit of them. The autoheight tracking system will solve the problem well. The auto height tracking system can becontrolled by professional water jet software, before cutting, the tracking pinwill begin to go down, guarantee the distance between cutting head and cuttingpart is 3-5mm, then the Z axis will go down, until the pin touch the surface ofcutting part. The limit sensor on the system will get thesignal, after it is sent to the CNC control system, it will lift upautomatically ( This function is achieved by air, the air pressure is 0.2Mpa),not affect the working of cutting head. Thesystem can be used on the standard 3-axis cutting head, dynamic cutting head,to guarantee the cutting accuracy , it is a very professional auto tool settingdevice.
Following device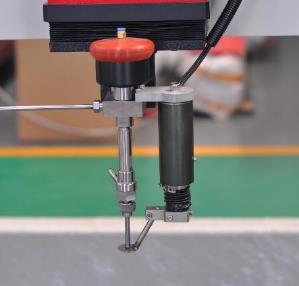 To solve the problem of irregular surfacecutting, HEAD water jet company has developed the following device. This systemcan cut well on the irregular surface at time. It is often used on the smallangle sloping or easy grade. This device does not need the air to make it back,it will follow the cutting head all the time, not affect the cutting. Thisdevice is suggested to use on the 3 axis cutting head.
Loading Series
According to many years actual cutting experience .Shenyang Head Science & Technology Co.,specially design two types of loading system for brittle material cutting . Floor-type loading system for large piece of marble cutting The cutting table adapts latest loading design, the max overturn angle is 85,the distance between loading material and ground is only 100mm,max load-bearing is 1000KG ,hydraulic lifting and some other designs can meet the requirement of marble cutting .The situation many personnels are needed for loading material is changed , nowadays only 1 person is needed for the whole loading process .simple,convenient ,greatly reduce the labor cost and minium the marble breakage.This cutting table structure is 1st time adapted in domestic.It gains high praise once used by lots of marble processing clients. Another loading system is professional designed for large piece of glass handling after processing. This cutting table can realize the longest 4000mm glass cutting , max load-bearing is 1000KG, the max overturn angle is 85,and hydraulic lifting is adapted .Glass breakage rate is very high during handling process , when cut in ordinary cutting table ,especially cutting large ares multiple irregular holes,the most popular toughened glass is very obvious at the current market . Strongly required by the glass processing clients , the glass loading system is designed successfully , it has solved lots of problems for glass deep processing , and gains consistent high praise .
Submerged platform
Separated structure between water tank and moving system. This way can ensure the water tank keep a long time using life under the worse environment. The water tank equipped water level lifting system in standard components. This system is manual controlled by water level adjusting valve. This level can be adjusted according to actual situation. The water tank will not require water and additional actions from the operator. This system can limits the water jet spraying prominently by increase the water level over the cutting material, which can keep the cutting head clean more easily. Submerging the cutting material is a very effective solution to reduce the noise when cutting, even minimize the noise to 75db.
Head new type movable auto abrasive removal system model HD75L
Head new type movable auto abrasive removal system model HD75L, is our self-developed equipment specially for waterjet cutting removing waste abrasive. It is the most reasonable and simple abrasive removal system in the existing of waterjet cutting abrasive removal field. It has many advantages compared with traditional removal system.
The advantages of movable auto abrasive removal system:
1.Whole abrasive removal process does not effect the waterjet normal cutting.
2.This removal is easy to operate, can clean the abrasive completely with a high speed.
3. Big volume 75 L, commonly remove twice a day at most.
4. Thick steel plate and perfect hydraulic system.
5.Strong strength and high stability
6.Environmental protection and energy saving
7.Mobility and humanization